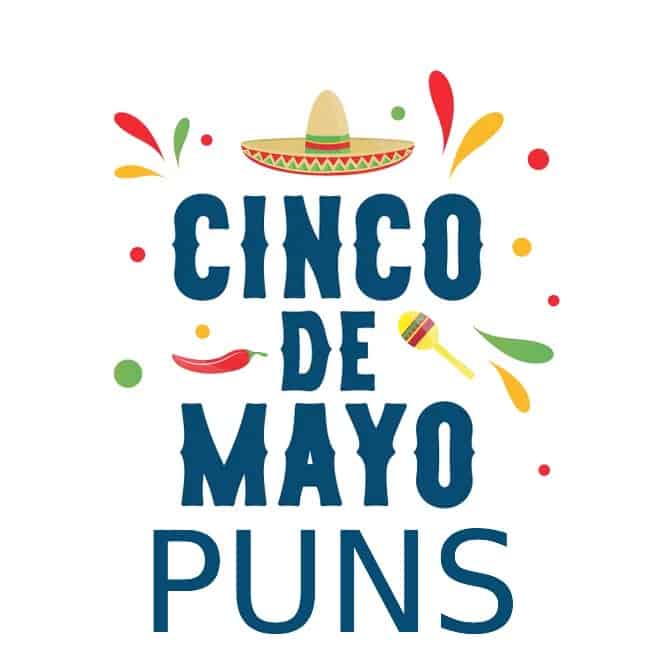 Cinco de Mayo is a fun holiday celebrated in the United States and some parts of Mexico. People all around the world love to get together, eat great food, dance, and have a good time. One of the best parts of Cinco de Mayo is making puns. If you're interested in learning more about this fun holiday and how to make your own puns, keep reading!
Definition of Cinco de Mayo

Cinco de Mayo means "The Fifth of May" in Spanish. This holiday celebrates the victory of the Mexican army over the French army in the Battle of Puebla on May 5, 1862. People often think that Cinco de Mayo is Mexico's Independence Day, but it is actually a holiday to celebrate a victorious battle.
History and Origins of Cinco de Mayo

The Battle of Puebla took place during the French Intervention in Mexico. The French army had been trying to take over Mexico for a while, but on May 5, 1862, the Mexican army under General Ignacio Zaragoza defeated the French army. Although the French eventually took control of Mexico, the Battle of Puebla remains an important victory in Mexican history. Cinco de Mayo became a widely celebrated holiday in the United States in the 1960s, thanks to Mexican-American communities who wanted to celebrate their heritage.
Examples and Ideas for Cinco de Mayo Puns

Making puns is a fun and creative way to celebrate Cinco de Mayo. Here are a few examples to get you started:
"Lettuce taco 'bout how awesome Cinco de Mayo is!"
"What do you call a lazy avocado? A guaca-nap!"
"I don't always celebrate Cinco de Mayo, but when I do, I prefer Dos Equis."
"Why did the tomato turn red? Because it saw the salsa!"
"Nacho average Cinco de Mayo party!"
Queso where the party's at? Cinco de Mayo!
You guac my world.
This Cinco de Mayo, let's taco 'bout how awesome we are.
You are the salsa to my chips.
Let's tacobout how great Cinco de Mayo is.
We're nacho average party animals.
We're a-matcha made in heaven, just like guacamole and chips.
Sip, sip, hooray! Happy Cinco de Mayo!
This Cinco de Mayo, let's taco 'bout how much we appreciate our friends and family.
Don't be sour, it's time to fiesta!
Yoda best margarita maker in town.
Tequila, it's not just for breakfast anymore!
Let's raise a glass to a cinco-star celebration!
Holy guacamole, it's Cinco de Mayo!
Let's guac and roll!
It's margarita o'clock somewhere.
You make my heart skip a beet, just like the salsa dancing we'll be doing.
Let's taco 'bout how we'll be dancing the night away this Cinco de Mayo.
Salsa, salsa, salsa! Let's get the party started.
Fiesta like there's no manana!
Ole! Happy Cinco de Mayo, everyone!
Don't be a sourpuss, drink a margarita.
Let's taco 'bout how this is going to be the best Cinco de Mayo yet!
This Cinco de May-oh baby, let's salsa all night!
You're my margarita mate!
Don't let the festivities guac your socks off!
Cinco de Mayo is nacho average holiday!
Spice up your Cinco de Mayo with some hot salsa and guacamole.
This Cinco de Mayo, I'm avo-control!
Let's taco 'bout how you're the guac to my roll.
Pour some salt, and let's dance the night away.
You're mint to be my Cinco de Mayo partner in crime!
You can also use Mexican cultural references in your puns, like the piñata, sombreros, or the Mexican flag.
Tips for Making Your Own Cinco de Mayo Puns

Making puns can be a bit tricky, but with these tips, you'll be making great puns in no time:
Think outside the box: Puns are all about word play, so don't be afraid to get creative.
Use homophones: Homophones are words that sound the same but have different meanings. For example, "taco" and "talk-o."
Use imagery: Think about the cultural symbols associated with Mexico, like cacti or maracas.
Be silly: Puns are supposed to be fun, so don't be afraid to let loose and be silly!

Cinco de Mayo is a fun holiday that you can celebrate with puns. Understanding the history and origins of the holiday can help you make more meaningful puns. Remember to have fun, be creative, and use homophones and imagery to create a great pun. Whatever you come up with, Cinco de Mayo is a time to enjoy good food and company with your friends and family.
Recent Posts
link to Fish Puns - The Best 53 Puns
Dive into a Sea of Smiles: The Wonders of Fish Puns Hello everyone! Are you ready to dive into the deep waters of humor with a current of giggles? Get ready, put on your imaginary snorkeling gears...
link to Meow puns - The Best 46 Puns
Having a Purr-fectly Amusing Time with Meow Puns Hello, Furriends! Are you ready to tumble into the fun and fluffy world of cat puns? We all know that cats are cute, adorable, and a fur-ever...