The 4th of July is a day loved by all Americans. It's a day of parades, fireworks, and barbecues. It's also a day of patriotism and celebrating the United States' independence. What better way to add some fun and humor to your 4th of July celebrations than with some puns?
What are 4th of July Puns?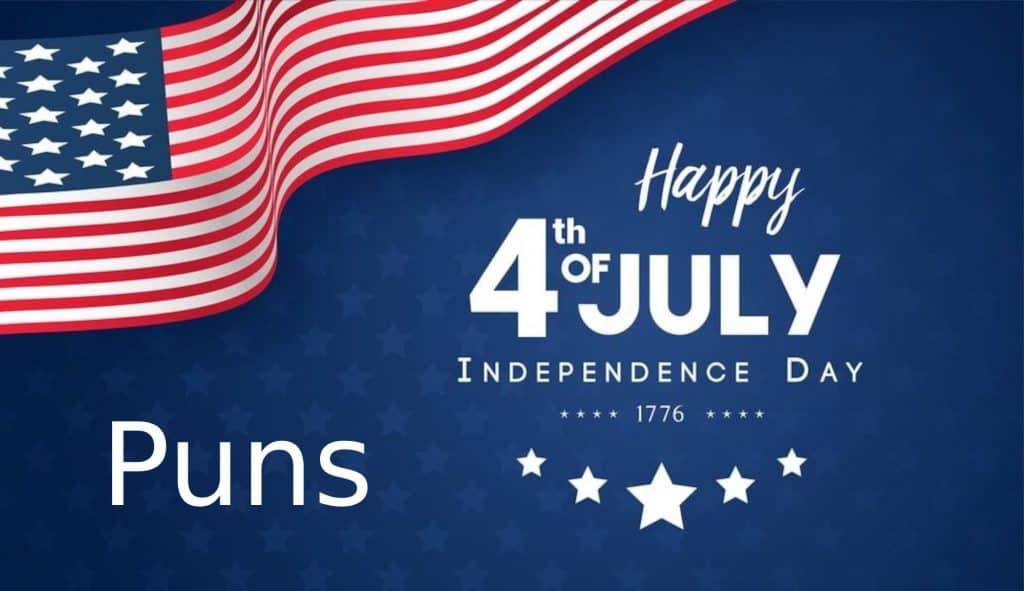 Puns are wordplay jokes that use different meanings of a word or similar-sounding words to create a humorous effect. 4th of July puns are funny plays on words that are related to American history, independence, or patriotism.
List of the Best 47 4th of July Puns:
Let's get lit like the 4th of July fireworks.
Let the celebration spark joy!
I'm not too old to party like it's 1776.
How do you organize a patriotic cow? You herd it to its star-spangled banner.
Let's make this 4th of July one for the stars and stripes.
I pledge allegiance to the barbecue.
Red, white, and brew.
Let's have a blast this Independence Day.
The founding fathers would approve of our partying skills.
I'm all a-'bout that base, no treble (referring to a flagpole base).
Uncle Sam wants you to have a happy 4th of July!
I'm the grill sergeant!
As American as apple pie, baseball, and the 4th of July.
Putting the "free" in freedom since 1776.
The firework show was lit, literally.
Liberty and lubrication for all.
I like my freedom like I like my burgers: well-done.
Sip sip, hooray! It's Independence Day!
Has anyone seen my Yankee doodle hat?
America, the beautiful (who needs a filter?)
Party like it's 1776, but with better music.
An American holiday, and I'm loving it a whole wheat bun-ch.
Let's turn up the heat on the 4th of July!
Support our troops… by eating more hot dogs and burgers.
I'm not drunk, I'm just patriotic.
The founding fathers would be proud of our drinking abilities.
Grillin' and chillin' this 4th of July.
I'm the chief of the grill.
Well, butter my buns and call me a patriot!
Blast off to a great Independence Day celebration!
I'm here for the red, white, and booze.
My firecracker is bigger than yours.
Don't be a party pooper, celebrate like an American.
You don't have to be a rocket scientist to enjoy the 4th of July.
It's not a party until someone burns the hot dogs.
I'm not a regular patriot; I'm a cool patriot.
Salute to the flag, and to a great celebration!
Bring on the fireworks, I'm ready to party.
Let's make this 4th of July a blast from the past.
Today, I'm feeling star-spangled awesome.
This is my independence face (with a patriotic selfie).
Check out my American flag socks, I'm ready to celebrate.
It ain't the potato salad that's bringin' the heat.
Get your party pants on, it's the 4th of July!
I'm not saying I'm Uncle Sam, but have you ever seen us in the same room?
Let's grill and chill like it's the 4th of July.
This Independence Day, let freedom (and puns) ring!
How to Incorporate 4th of July Puns into Your Celebrations?

There are many ways to incorporate 4th of July puns into your celebrations. You can use them in your invitations, decorations, food, and drinks. You can also use them in games and activities. Try making up some 4th of July puns, and using them in a scavenger hunt, or trivia game.
How to Create Your Own 4th of July Puns?

Creating your own 4th of July puns is easy. Look for words or phrases related to independence day, American history, or patriotism. Think of ways to use those words in different contexts or to create a humorous contrast. For example, "I'm not a fan of red, white, and blue popsicles… they're too tasteless."

4th of July puns are a great way to add some humor to your celebrations. With this list of the best 47 4th of July puns, you'll be sure to entertain your guests and spread some laughter. Don't be afraid to create your own puns and have fun with them. Happy 4th of July!
Recent Posts
link to Fish Puns - The Best 53 Puns
Dive into a Sea of Smiles: The Wonders of Fish Puns Hello everyone! Are you ready to dive into the deep waters of humor with a current of giggles? Get ready, put on your imaginary snorkeling gears...
link to Meow puns - The Best 46 Puns
Having a Purr-fectly Amusing Time with Meow Puns Hello, Furriends! Are you ready to tumble into the fun and fluffy world of cat puns? We all know that cats are cute, adorable, and a fur-ever...