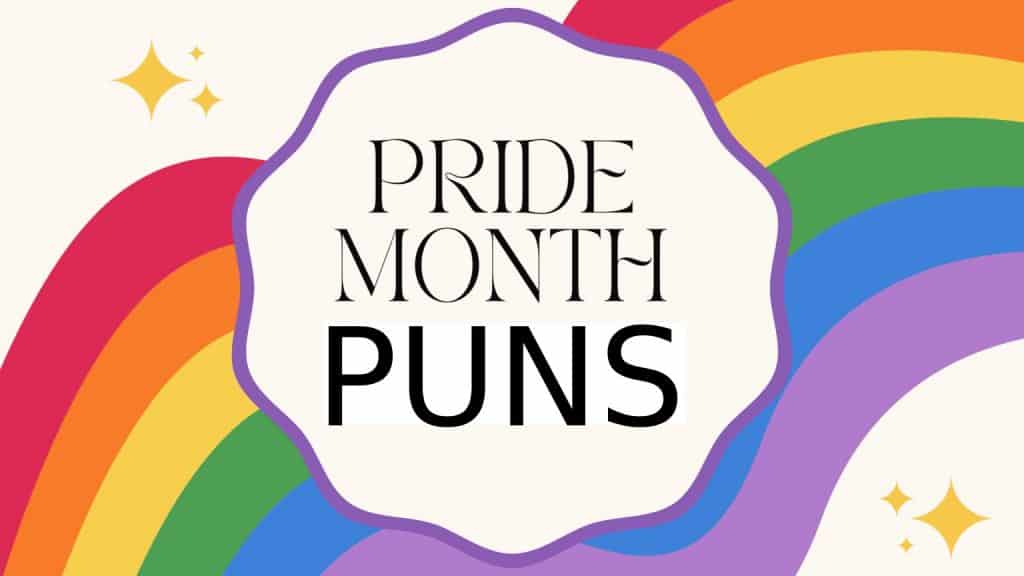 Pride month is a time when the LGBTQ+ community comes together to celebrate, advocate, and raise awareness about the importance of equality and acceptance. It's a time of year when we can all unite and show our support for our LGBTQ+ friends and family. One fun way to celebrate Pride Month is by using puns. In this blog post, we'll explore 42 Pride Month puns and talk about why we celebrate Pride Month, prominent LGBTQ+ figures, and how you can get involved.
The 42 Puns of Pride Month:
Love is love
Rainbow thyme
You're so gay you put the glitter in glitterati
The straight and narrow path is overrated
You're bi-licious
Love is not a phase
Bisexuality: two for the price of one
Rainbow kisses
Love is all colors
Love who you love, not who someone else tells you to love
Gay-cation
We're here. We're queer. Get used to it.
Equality is magical
I'm here, I'm queer, and I'm ready for a beer.
Allies are welcome, too
Love is gender-blind
Fill your life with rainbows
Be loud and be proud
Love is not a crime
Straight people: have a crayon, color outside the lines
Being gay is not a choice, but being fabulous is
Equality: because love knows no gender
I'm not a stereotype, and that's fabulous
Love wins
You're a rainbow in my life
Be kind, be fierce, be you
Homophobia is sooo last year
Live, laugh, love, and accept
From A to Q, we've got you
Loving who you want is not a sin
No rain, no rainbow
We're all humans and deserve to be treated with respect
You are loved
Don't be a drag, just be a queen
Break the heteronormative mold
Be true to you
Out and proud
Start a fire for equality
Love is not a choice, but hate is
I'm bi-myself, but never alone
Happiness is not defined by gender
Love is the coolest thing, ever
Why We Celebrate Pride Month

Pride Month was created to commemorate the Stonewall riots, which took place in New York City on June 28, 1969. The riots were a catalyst for the Gay Liberation movement and sparked the creation of many LGBTQ+ rights organizations. Pride Month is a time for LGBTQ+ individuals and their allies to come together to celebrate and advocate for equal rights and acceptance. It's also a time to raise awareness about the issues that the LGBTQ+ community faces and to create a more inclusive and accepting world.
Prominent LGBTQ+ Figures and Their Contributions

There have been many prominent LGBTQ+ individuals throughout history who have made significant contributions to society. Some of these figures include Harvey Milk, who was the first openly gay elected official in California, and Marsha P. Johnson, who was a key figure in the Stonewall riots and a LGBTQ+ activist. Modern-day pioneers include Ellen DeGeneres, a popular talk show host and actress who came out as gay in the late 1990s, and Neil Patrick Harris, the Tony and Emmy award-winning actor who also identifies as gay.
How to Get Involved During Pride Month

There are many ways to get involved during Pride Month, even if you're not a member of the LGBTQ+ community. You can attend a Pride parade, donate money to a LGBTQ+ rights organization, educate yourself on LGBTQ+ issues, and show your support on social media.

Pride Month is a time for everyone to come together and celebrate love, equality, and acceptance. By using puns and other fun ways to celebrate, we can all show our support for the LGBTQ+ community. Remember, love is love and everyone deserves to be treated with respect and dignity. Happy Pride Month!
Recent Posts
link to Fish Puns - The Best 53 Puns
Dive into a Sea of Smiles: The Wonders of Fish Puns Hello everyone! Are you ready to dive into the deep waters of humor with a current of giggles? Get ready, put on your imaginary snorkeling gears...
link to Meow puns - The Best 46 Puns
Having a Purr-fectly Amusing Time with Meow Puns Hello, Furriends! Are you ready to tumble into the fun and fluffy world of cat puns? We all know that cats are cute, adorable, and a fur-ever...